Viva Las Vegas!
Our biggest and most important fundraiser each year is Viva Las Vegas!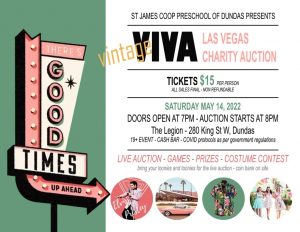 Click HERE for more details!
All-Year Fundraisers
Mabel's Labels 
We have an ongoing fundraising campaign with Mabel's Labels. The company describes their products as "the very best personalized waterproof name labels and tags." They are a popular way to identify clothes and lunch containers (and anything else) that kids bring to school.
If you (a co-op family) order Mabel's Labels via the link below, you'll get a percentage of your order counted toward your fundraising target.  If your friends and family need labels, pass the link to them too!  Once they place their order, send us their name so we can allocate the fundraising discount to the right St. James family.
You can also go to the Mabel's Labels website below and select "ST JAMES COOP PRESCHOOL (DUNDAS)" from the drop down menu and then place your order.
Scholastic Book Orders
Book order forms will be distributed in co-op family mail boxes.  Due dates for orders will be attached to each package of catalogs.  A percentage of your order will be deducted from your fundraising target, plus the preschool gets additional points for every order! A child can never have too many books!
Chocolate Almonds
To kick off September each year, we start off with our "World's Finest" chocolate almonds fundraising campaign. It has a 40% return so you can put a nice deduction in your fundraising commitment right away!
Upcoming Fundraisers
Check with our fundraising committee for upcoming fundraiser! Email: sjcpfundraising@gmail.com